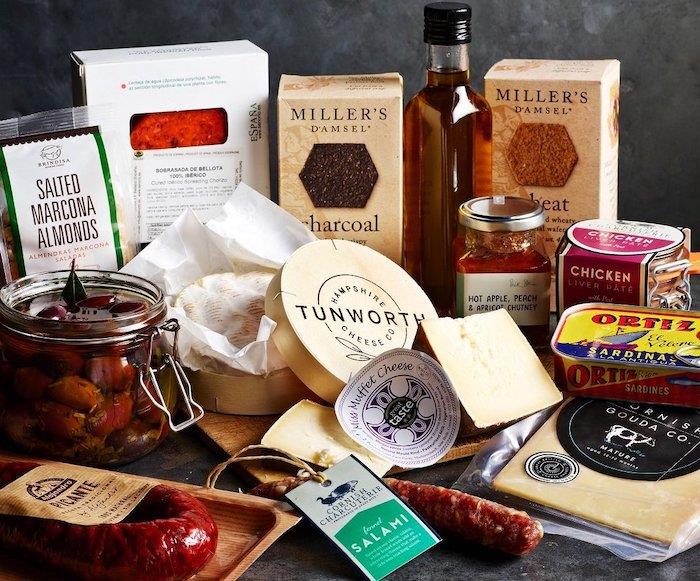 'STEIN'S AT HOME' FOOD BOXES FROM RICK STEIN - AT 10% OFF FOR THE NEXT 10 DAYS!
Stein's at Home has a wide range of boxes, not just the superb fresh fish and shellfish. There are Breakfast Boxes, Cheese and Charcuterie Boxes, wine and Gift Vouchers and much more.
Pictured above is the fabulous Rick Stein Cheese & Charcuterie - large. Rick's personal selection of nibbles is perfect for garden get-togethers with friends and for picnics and staycations. This large box comes with everything you need to create a rather impressive spread of cheese, meat, olives, biscuits and more. It's also a great gift for someone that loves cheese and charcuterie.
You can look forward to enjoying:
Cornish Gouda (250g)

Tunworth cheese (250g)

Miss Muffet cheese - wedge

Cornish charcuterie fennel salami stick (60g)

Cornish charcuterie chicken liver pâté jar

Rick Stein hot apple and peach chutney

Millers wheat biscuits

Millers charcoal biscuits

Marcona almonds

Rick Stein olives (kilner jar)

Chorizo Alejandro hoop - hot (200g)

Sobrasada

Ortiz sardines

Rick Stein olive oil (250ml)
Use the code LVLSTAYCATION10 and you'll receive a 10% discount on this and any other order - simply use this voucher code at https://shop.rickstein.com
Discount valid until end June.


EXCELLENT DDR RATES ON CORPORATE EVENTS AT THE IN & OUT
The In & Out Club is one of London's finest member clubs and looks out onto the beautiful St James's Square. With its rich history and stunning rooms, this has to be one of central London's finest venues for corporate events. There are a range of rooms which can be configured and tailored to your event, plus there's a stunning private courtyard.
There is also the option to host a residential event at the Club as there are 50 bedrooms which can be booked as part of a corporate package. Needless to say being a Club of this calibre, it has superb catering and service so your guests can be assured of a memorable experience.
Details can be found by clicking through to the online brochure above, however to find out more or arrange a showround email mark@leadingvenuesoflondon.co.uk.