PROVISIONALLY BOOK YOUR STAND AT THE NEXT LVL / PA CLUB SHOWCASE
TO BE HELD AT THE BEAUTIFUL IN & OUT CLUB ON ST. JAMES'S SQUARE
TUESDAY 6th OCTOBER, 2020

We're delighted to announce that the Autumn LVL / PA Club SHOWCASE will be on Tuesday 6th October at the wonderful In & Out Club on St. James's Square in the heart of the West End. Clearly if there are unfortunate developments regarding Covid-19 and SHOWCASE has to be postponed then booked stands will remain valid.
We are working with the Club to determine the practical numbers of visitors and number of stands but given the stunning covered Courtyard will be used as well as some of the other beautiful spaces, there will be ample room to accomodate SHOWCASE in safety.
For all further information about reserving your stand contact mark@leadingvenuesoflondon.co.uk or guy@leadingvenuesoflondon.co.uk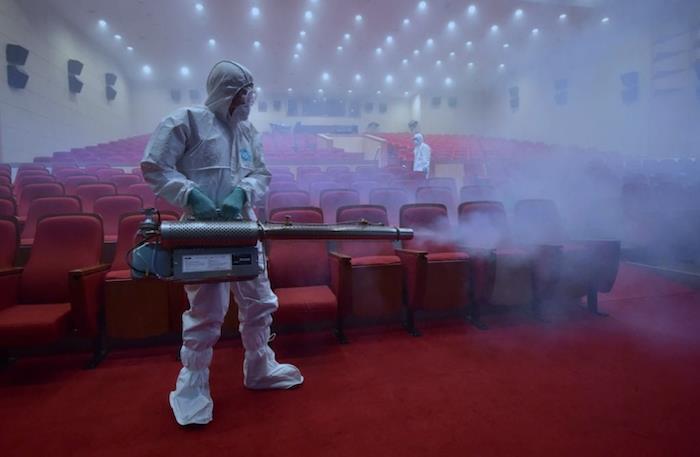 DECONTAMINATION FOGGING - USING THE LATEST TECHNOLOGY IN DECONTAMINATING YOUR WORKING ENVIRONMENT
LVL has been appointed sole agent to the UK's leading Decontamination Fogging company.
Their aim is to ensure that your working environment is safe for your staff and guests to return to the office as lockdown is relaxed.
They will enable your staff and guests to work in a safe and decontaminated space that is regularly deep cleansed. They provide peace of mind for your staff and ensures that your company is looking after their health in the best possible way.
---
THE LATEST TECHNOLOGY IN DECONTAMINATION FOGGING AND STERILISATION:
Fogging machines put clinically tested chemicals into the air, covering the entire surface area of your office. This chemical technology provides a long-lasting protective shield on any surface that it is applied to

The chemicals contain no irritants, are non-toxic and fully compliant with EU Biocide regulations and manufactured under ISO9001

The chemicals are proven to kill 99.99% of bacteria and viruses

All requisite paperwork is provided that confirms this detail

The chemicals used are tested and proven to not be harmful to humans, animals, plants or electrical equipment

The chemicals will have an anti-bacterial lifespan of 30 days, but we recommend a full decontamination clean up on a fortnightly basis, depending on how busy your venue or office is
THE PROCEDURES ARE DESIGNED TO CREATE MINIMAL DISRUPTION TO YOUR BUSINESS:
Veteran British Army Soldiers are employed who have all completed training in CBNR (chemical, biological, nuclear and radiation)

Strict operational procedures are followed ensuring a safe and efficient job

An 8 step process which all operatives follow, ensures that your facilities manager understands the actions and is happy with the work

The high powered fogging machines allow the teams to work fast and within 2 hours of finishing the decontamination process, you will be able to return to the building/room

They work nights and at weekends to minimise disruption to your working day

Swabs and certification for proof of decontamination provided
To find out more and arrange a direct conversation contact mark@leadingvenuesoflondon.co.uk in the first instance.